Mortal as I am, I know that I am born for a day, but when I follow the serried multitude of the stars in their circular course, my feet no longer touch the earth; I ascend to Zeus himself to feast me on ambrosia, the food of the gods.
— Ptolemy
Hubble Art is the result of our love of the Hubble telescope Images.  For years we've used them as screen savers and printed out some of our favorites.  A few years ago we started doing oil paintings of Hubble images and soon found that painting was not the medium to best display these images.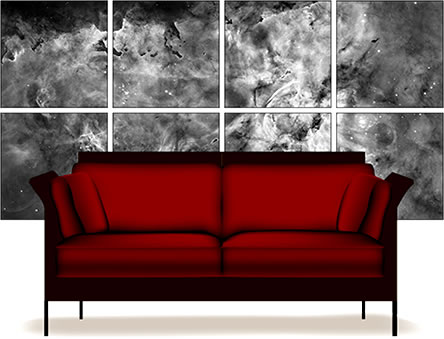 About the same time, giant leaps were made in printing and ink  capability.  The quality, speed and capacity grew exponentially,  but exhibition quality print on canvas still isn't within the reach of the average consumer – $16,000+.
Next we found that even using the highest quality printer is no guarantee of quality.  Quality is a combination of the printer, ink, canvas, stretching material, color calibration, the image, and the processes surrounding all this.
Many hours are spent on each image adjusting  sharpness, color saturation, contrast, hue and highlights to get to the optimum compatibility between image and printer. We typically start with the NASA/ESA large tiff files- up to 500 megabytes. We want your canvas art print to manifest the wonders of our universe.
I'd also like to note that we don't shy away from customization.  We want you to be happy with your purchase  and sometimes your needs don't fit in our pre-defined box.  So let us know if you want black and white instead of color, print on 4 canvases instead of one, print very large sizes, it's all up to you.
If you want to know more about our process, see What to Compare.
Sometimes we look at these images and we feel attracted by their abstract expressionist beauty – much like a Jackson Pollock painting.  Other times we realize that these things actually exist and we truly understand the word a-w-e-s-o-m-e.
So browse our Shop and Gallery.  I hope you find that one image that takes your breath away.
Enjoy your stay with us…
Not only is the universe stranger than we imagine, it is stranger than we can imagine.  – Sir Arthur Eddington